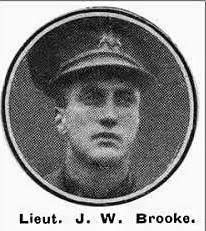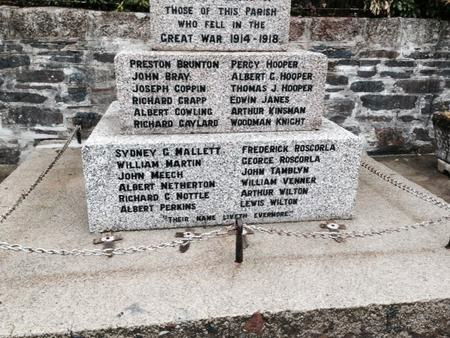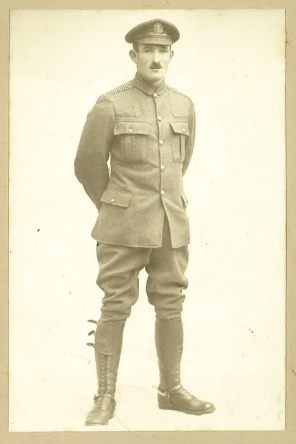 BENWELL Arthur C. 1304 Private, Private Durham Light Infantry 101546
BERRILL Ralph Second Lieutenant Worcestershire Regiment, Captain Labour Corps
BIRD Frank 1683 Private, Tank Corps 302987
BLACK Ernest Charteris 722 Private, Second Lieutenant Royal Scots Fusiliers
BOUCHER Montague 1158 Private, Lance Corporal Tank Corps 302859
BOWE Henry 120 Private, Private Lancashire Fusiliers 45443
BOWYER William G. 1664 Private, Tank Corps 302789, Northumberland Fusiliers 61178
BOYD, Francis Abercrombie Stegggal. Rifleman Rifle Brigade, 7th Bn. formerly 2nd King Edward's Horse. Lacroze Co. Electrical works. K.I.A. Baupaume, France 10th March 1917 (age 19). Born in 1898, lived in Zarate. Only son of James Gammie Boyd and Frances M. C. Steggall, of Buenos Aires, and 8, Croftdown Rd., Highgate, London. Commemorated on the Holt Memorial in Ibicuy, Entre Rios, Argentina.
BOXALL Alfred Charles 1081 Trooper
BROADWOOD Stewart Henry Tschudi Second Lieutenant then 2nd Scots Guards, 1915 (With thanks to Tom from Great War Forum).
BROOK Charles Second Lieutenant, Lieutenant Colonel 2/1st Yorkshire Dragoons
BROOKE, John Warwick. 606. Serjeant. Born 30/05/1886 in London and died 1929 at Uxbridge aged 42. Joined Royal Navy 1901. Press photographer with Topical Press Agency. Enlisted 1915, arrived in France as a Serjeant 5/05/1915 and commissioned as Second Lieutenant in 1916 after being awarded the Distinguished Conduct Medal 14/01/1916. Became the second British official war photographer. Awarded OBE 2/11/1920. Joined the Auxiliary Division Royal Irish Constabulary (ADRIC) 4/05/1921 and discharged in 1922 with the rank of Captain.
BROOM Francis Hubert. 831. Private, Second Lieutenant Machine Gun Corps 22844
BROWN, Herbert Cavis. 1341. Private, born in the UK and KIA 25/05/1915 aged 31 at the Battle of Festubert. Son of William and Mary Brown, of Stratford-on-Avon. Commemorated on Le Touret Memorial, France.
BROWN Y. Farrier Lance Corporal, Second Lieutenant 51st Middlesex Regiment
BRUNTON, Preston. 52. KIA 25/05/1915 aged 33 at the Battle of Festubert. Son of Fred S. and Mary Brunton of 29 Twickenham Road, Teddington, Middlesex; husband of the late Janet Taylor. Commemorated on Le Touret Memorial, France and St. Neot War Memorial, Cornwall, UK.
BUCK Charles W. 1352 Private, Tank Corps 300485
BUCKLAND James A. 1840 Private, Corporal Military Mounted Police P/11922
BUCKLEY Charles 1650 Private, Private Northumberland Fusiliers 61272
BURNETT Horace E. 1000 Serjeant, Private Machine Gun Corps 25253, Lieutenant
BURROUGHS John R. 1509 Private, Corporal Tank Corps 302775, Corporal King's Liverpool Regiment 91422
CAMPBELL, Robert Bruce. Served with the Assam Valley Light Horse from 1897. Served 2nd KEH 1915-17 then Tank Corps. Commissioned Second Lieutenant Labour Corps 1918. Cap badge and shoulder title in National Army Museum together with his British War Medal, Victory Medal and Volunteer Long Service Medal India.
CAPELL Henry Addison Devereaux 1977 Trooper, Second Lieutenant Highland Light infantry, Lieutenant Labour Corps
CAPPER Alfred Isidore 433. Private 2KEH, Private KEH, Acting Corporal Northumberland Fusiliers 61202. Born in London named Alfred Isidore Friedlander and worked in South Africa. Changed his name to Alfred Isidore Capper by deed poll in November 1914 due to the Germanic overtone of his birth surname. He enlisted in the 2nd KEH 1914 and went to France 2/07/1915. Alfred then appears in a 1916 photograph of a Hotchkiss machine gun team of King Edward's Horse (see Figure 22) which he must have been transferred to although his Medal Index Cards and medal rolls make no distinction between the KEH and 2KEH. He was then transferred as an Acting Corporal to the Northumberland Fusiliers 61202. He didn't speak about much of his wartime experiences with his family but did re-call being shot off his horse, being buried by the earth thrown up by a shell but escaped unscathed and fighting dismounted. He married in 1930 and died in London in 1945. The family retains his 2KEH cap badge (see Figure 429) and 2KEH portrait photographs (Information and photographs courtesy of Robert Cruickshank, his grandson).
CHRISTIE, James. 1436. Private, born in the UK and KIA 26/05/1915 aged 31 at the Battle of Festubert. Commemorated on Le Touret Memorial, France.
CHRYSTAL John. 1919. Acting Corporal Royal Engineers 208117, Acting Corporal 2nd KEH, Second Lieutenant Royal Engineers
CHUBB William S. R. 1881 Private
CLACEY Walter Cleveland 1213 Serjeant
CLAREY John C. 1788 Private - Northumberland Fusiliers 40115, Tank Corps 302868
CLARKE Stanley R. 1855 Private, Private Northumberland Fusiliers 61215, Private Tank Corps 302872
CLELLAND Daniel 1333 Private, Acting Lance Corporal Tank Corps 302822, Acting Lance Corporal Northumberland Fusiliers 61307
CLEWLON R. D.
COLLING John 1808 Private Lancashire Fusiliers 40546, Private Northumberland Fusliers
COLLINGWOOD Alan R. G. 1984 Private
COOKE Edwin B. 1805 Private, Corporal 5th Dragoon Guards 3834
COONEY Jonathan 1309 Private, Private Tank Corps 45460, Private Lancashire Fusiliers 303024
CONSTABLE Clifford Edward Second Lieutenant, Captain
COPE Arthur Selywn 1330 Private, Second Lieutenant Lancashire Fusiliers, Lieutenant 2/5 Gloucestershire Regiment
CORDER Harold C. 1187 Private, Acting Serjeant Tank Corp 302806, Northumberland Fusiliers 39947, Lancashire Fusiliers
CRADOCK Montagu Lieutenant Colonel CB CMG. Lieutenant Colonel Cradock was born in Giling East, North Yorkshire on the 16th October 1859 and died in London on the 14th December 1929. Having first enlisted in the Durham Fusiliers in 1877, as a Second Lieutenant he saw active service in Afghanistan in 1879-1880 with the 6th Dragoon Guards. Having retired from the army as a Captain in the 6th Dragoon Guards he emigrated to New Zealand in 1893. In 1900, Major Cradock took command of the 2nd New Zealand Contingent in the Second Boer War. He was promoted to Lieutenant Colonel and commanded the 3rd Mounted Infantry Corps and Bushmen's Brigade. During the Great War he commanded the 2nd King Edward's Horse (Portrait photograph Copyright Imperial War Museum HU 102500 shown as Figure 433).
CREIGHTON Bertram B. 1215 Private, Tank Corp, Northumberland Fusiliers 61255
CRONIN Thomas 1461 Private, Private Tank Corp 302787, Private 2/4th Northumberland Fusiliers 61180